Draft Diary Of A First Time FFPC Best Ball Player
I'm Stephen Polacheck (@Catouncilman on Twitter) , a fantasy football veteran for quite some time now, but I have never participated in the FFPC or a TE premium league, and I played Best Ball for the first time just last year. Participating in a draft like this is absolutely a learning experience. This article chronicles my draft experience in a recent FFPC Best Ball draft. I should note that this draft was completed before the NFL free agency period opened, so none of the recent moves had gone through yet. At the end of this article, I also reflect back on my picks based upon free agency moves that affected the draft value of many of the players on my team.
The draft was was a standard 28 Round Best Ball draft, with a 2 Hour time limit.  I drafted out of the 8 spot, and here is the overall draft board to refer to when reading this narrative.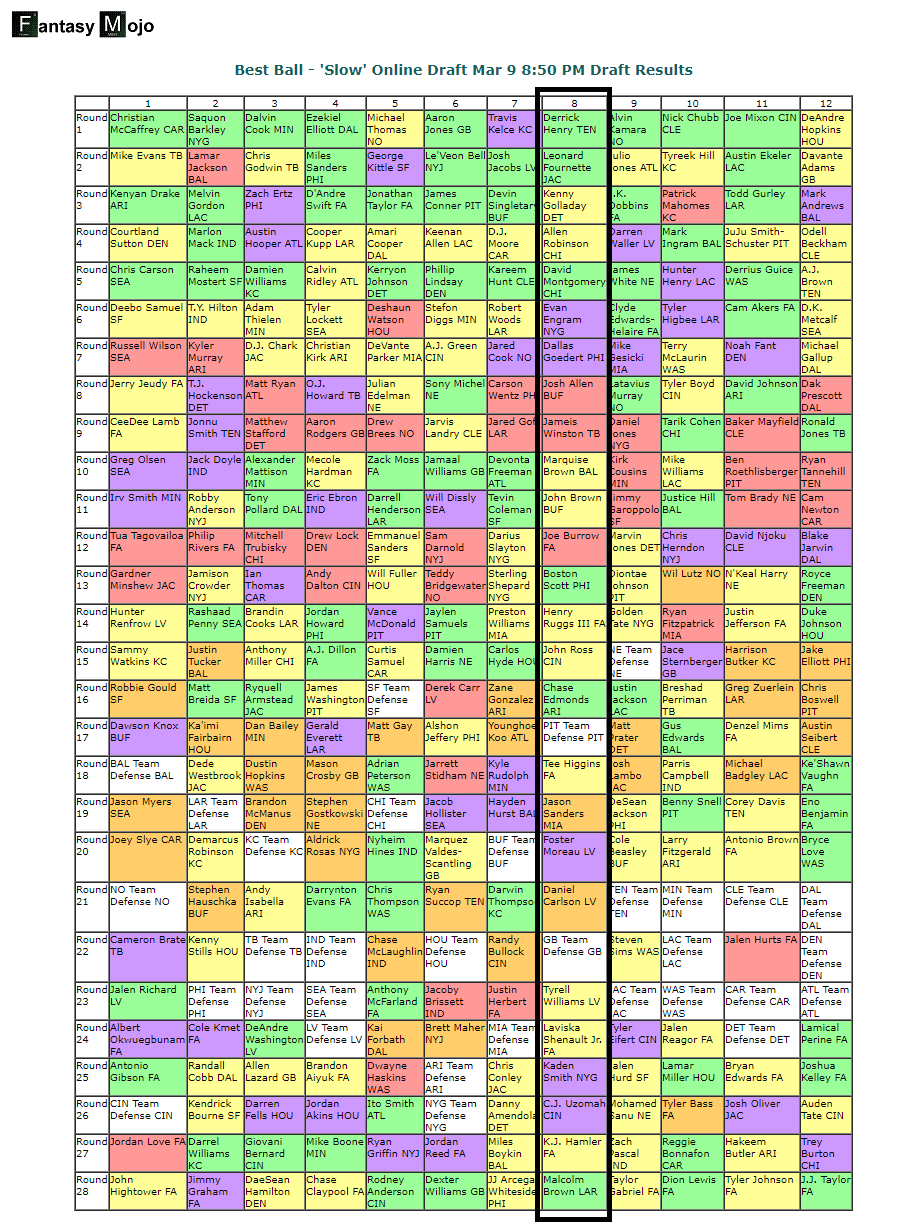 So what did I do pre-draft?
I needed some kind of strategy, so the first area I researched was the team composition. I have to build a 28 player roster that maximizes my point potential. This is Best Ball, and weekly I get to play 1 QB, 2 RB, 2 WR, 1 TE, 1 PK, 1 DEF, and 2 W/R/T Flexes. So I pulled the BestBall winning team compositions from FantasyMojo's 2019 FFPC Best Ball Roster Construction Win Data and looked for any sorts of trends. 
What I wanted to do was make sure I built a team that had a high win rate, I selected roster constructions with win rates over 20% that also had over 10 entries, thinking that below that number, there isn't substantial data for the win rate. That criteria knocked it down to 10 compositions. Taking the averages of the position distributions, it gave me a rough idea on where to focus my team, which seemed to be WRs and TEs. 
Further, I looked for any compositions that had over 20 entries, as I knew that they are more mathematically sound, as they have a very high win rate with a lot of data points, proving to me that it isn't a fluke with a lucky "Lamar Jackson" pick. These 5 compositions had slightly different averages, with higher numbers of WRs than the ones with 10 entries. The averages of these 5 compositions were 3.2 QB, 6 RB, 10.2 WR, 4 TE, 2 PK, 2 DEF. When I looked at the two highest win rates among these, I found one with  a 27.4% win rate (73 entries with 4 QB, 6 RB, 10 WR, 4 TE, 2 PK, 2 DEF), and another with a  29.63% win rate (27 entries, having  3 QB, 6 RB, 10 WR, 5 TE, 2 PK, 2 DEF). 
When looking at the averages of the 5 best compositions and rounding, I had a 27-man roster, with one spot left to allocate. My plan going into the draft was to use that last spot on either a QB or a TE, whichever I felt less comfortable with. So, looking at what has previously won leagues, I know that in the draft my 28-man roster will be composed of 3.5 QB, 6 RB, 10 WR, 4.5 TE, 2 PK, 2 DEF.
Since I now have a composition, I wanted to dive into my positional strategies. I helped figure out the draft pick ranges looking at the Average Draft Positions in the  2020 FFPC Best Ball ADP (Jan-Feb).
Looking at the Quarterback position, there are a lot of names that fall in the "middle of the road" category. The top 3 of Mahomes, Lamar, and Watson all have ADPs in the first 5 rounds, which is where the true talent is at the other skill positions. My experience in best ball is that you are looking for one good QB performance each week. So drafting 3 (maybe 4) middle-tier QBs is a good idea, especially when consistently productive players at the other positions are hard to find later on. Most QBs are taken in the round 7-11 range, which is likely where I will take mine. I have favorites for sure, but my plan is drafting a vet who you know will start games and give you solid production (Brees, Cousins, Rodgers) a high ceiling player in middle of their career (Wentz, Allen, Winston), and a later risk, or a "boom or bust" (Burrow, Bridgewater, Minshew). I will draft a fourth QB if I don't feel like I got a solid starter the first time around. My goal would be to have an established floor as winning this league is going to come from huge games from the other skill positions.
Running Backs have almost always been my first round picks in redraft leagues. The falloff from the top 10 players to the guys in the 20s is immense. Lots of teams are still only producing from one RB, and giving production to 2-3 WRs. Likely, I will go running backs early, aiming for at least 2 of the top 20 players, hopefully landing a top tier back with my first pick. I will end up with 6, so I have the space to take a shot on a rookie, and with the draft not having taken place, not knowing their landing spot is keeping their comparative value really low (Taylor, Swift, Dobbins) . However, their ADP is still in the top 3-4 rounds, which may turn me away to picking a TE or WR. I don't want these guys to be my premier running backs, as they could be serving backup roles and then I get little to no production from them for a while, which can cost me the league. It is dependent on how the first 2 rounds go whether I draft rookies or not. In later rounds, the running back production is really low, so I will be targeting getting at least 4 out of my 6 RB picks in the first 7 rounds.
The Wide Receiver positions is where I will try to win the league. Theoretically, my top 4 WRs could be in my lineup each week. So the goal is to get 2-3 higher floor players, who could fill the WR position week to week since it is needed. The target of the WRs is to get guys who will boom and bust. A consistent 10 points over 3 weeks will not get me far in best ball, but a week of 30-0-0 can really help, especially when combined with other players that are boom or bust. Receivers come off the board at an almost constant rate. Up until round 20, it seems like 4-5 WRs are picked each round according to their ADP. I will pick my receivers when I believe there is value. If a guy is left on the board because the draft went QB heavy a little early, I am going to take that value. I won't reach for WRs unless I feel like I have a sure-thing (Godwin last year I had no problem reaching on). Otherwise, I have no problem taking best available. Over 1/3 of my roster is going to be WR, so there is no need to hurry up and grab as many good players as possible, like I do with RBs. 2-3 WRs get production per team, so there isn't a must-grab for as many top 30 guys as possible. I have always believed in relative youth at WR, so guys in their 2nd-3rd-4th years can really take a step up and they would be the main targets. We saw last year that rookies can take giant leaps and be awesome, even without being a first rounder (Deebo, McLaurin), so in this loaded WR class, the day 2-3 rookies are catching my eye (Higgins, Jefferson, Shenault, Reagor, Hamler). Taking risks at WR in late rounds provides value so drafting WRs to close it out is not a death sentence by any means.
This is a Tight End premium league, meaning they get 1.5 PPR. As mentioned before, I haven't ever played in this format. My goal with this is to just not lose because of Tight Ends. There is a clear elite tier at this position, and their ADP is scary, since taking one would mean my RB picks would have to wait. That isn't something I want to do. I will take 4-5 of these TEs, dependent on my QB selections. I want to have at least 2 of the top 20, and TE20 goes around round 12.  I plan to pick a TE among the QB surge. Then I will take a chance on my later TE selections, however there isn't a ton of value as you keep going on. My focus would go toward the guys who I think are established and can catch a touchdown, someone like Darren Fells or Foster Moreau come to mind. This position I'm unsure of for this year, so If I can get at least 2 solid ones in the earlier rounds, I'll be set.
Kickers can score a lot of points any given week. It's truly an underrated wildcard. However, it is a wildcard. I don't want to invest too much draft stock into this position. Since the middle stage of this draft is likely going to be a plethora of WRs, I have no problem taking one of the top 10 kickers before round 16 (their ADP). After that, a high floor kicker is someone I'd target, someone like Josh Lambo, who has established himself as the Jaguars kicker of the future. Just a steady income of points from this position is all that's required.
Defenses are almost impossible to predict, as they depend on player health and opponents. The top defenses go at round 14, the worst go at the very end. Most have an ADP between 18-22, so if I drafted my 2 Defenses in rounds 18, 19, and 20, I almost get my preferences at them. I'd be ahead of the curve and the differences between the WRs at picks 18 and 20 is very small, so having the advantage of defenses could be a nice touch, however they're too hard to predict to warrant drafting them early.
With strategy in place, here are thoughts that I captured on each pick made during the draft. Again, this draft started on March 9th, prior to free agency opening up. 
1.08 Derrick Henry – RB
Derrick Henry seems like a must pick. Anyone who has a ceiling of his ability is a must pick, and as a 3 down durable RB, it doesn't matter what team he is on, he will get carries and has shown his ability to take over fantasy games. I wanted to make sure I hit on some early Running Backs, so I considered the Kamara, Chubb, and Mixon picks. Henry's ADP sitting at 1.09 shows me it's a good value here. 
2.05 Leonard Fournette – RB
Position wise I was split on whether to take Kittle, since he's past his ADP, or an RB like my pre-draft strategy says to, or one of the surefire elite WRs (Godwin, Evans). Ultimately, I can see the RB falloff and it is pretty steep, and staying true to my roster composition, I'm going to go with a RB here. I am going Fournette, his team is currently heavily invested in him, he will get 15 touches and 5 receptions a game. Those numbers can establish a high floor for him, and with his ability to break out huge runs he seems like the safest Best Ball pick of the currently available RBs, which consists of Jacobs and Sanders.
3.08 Kenny Golladay – WR
At this point RBs are flying off the board, and there are a lot of okay options (Gurley, Mack), however I know that WRs are going to to fall off very soon, so I should be taking one of them. I have been huge on Golladay, Robinson, and Sutton, however Golladay is 4 picks after his ADP here, something I would consider to be a great value pick. With big play potential and a decently high floor in PPR, he seems like one of the 2 safe pick WRs. I hope one of the other WRs mentioned slip through to me in the next round, unless more RBs go I may have step in and get one for myself.
4.05 Allen Robinson – WR
There is a debate here on which route to take. I wanted to sure up the second dependable WR here, but there is a draw to the Running Backs, as they've been flying off the board. DJ Moore and Amari Cooper are both well below ADP now, but Allen Robinson is sitting right at it. Robinson has a very high floor, and the unpredictability of the Carolina QB and Amari's team are reasons to pass for Robinson. Also, I'm not going to ignore the Penn State bias here.
5.08 David Montgomery – RB
This pick is tough, however I need to figure out my focus. Within the next few rounds I need 2 of my tight ends. There are options I like still available. But there's enough that by the next pick I should still have a choice at some of them. I also need to hit on some running backs, and sophomore David Montgomery seems like a steal here with the available RBs. Some RB insurance is good right now since they're flying off the board. I am stoked getting him, as a lot of RBs with later ADPs went before him, so right at value this is a lucky pick I have to make, and focus Tight End in the future.
6.05 Evan Engram – TE
Usually at this point Evan Engram is gone. He's an easy pick here, the RB heavy draft continues, which bodes well for me. I needed to get Tight Ends, and with a few falling off the board and him sitting well below his ADP, it's great value that I simply can't pass up. This actually becomes the latest he has been picked in one of these drafts using the 2 week ADP chart. His ADP was at pick 51, I got him 14 picks later.
7.08 Dallas Goedert – TE
Looking at what is available I didn't want to jump in to QBs yet, nor did I want to really reach on a RB. There will be lots of WRs available next time around still so I can wait on them for now. So I'm taking another Tight End, and it was between Fant and Goedert. Eventually I took Goedert because of how often Philadelphia uses their tight ends. They throw to them more than any other team. Goedert gets more catches than many TE1s. If Ertz goes down or gets traded, then it's even bigger for me. This is 2 picks ahead of Goedert's ADP, and below Fant's, but Goedert in his 3rd year in this offense seems like a steal here, and fits my draft strategy.
8.05 Josh Allen – QB
Here is where it really gets tricky. I will need QBs and RBs in these next few rounds, but the question I have to ask is who's going to be there? I see Running Backs flying off the board, people are really reaching for them compared to the 2 week ADP chart, so I should likely grab one ASAP. However, I also have some picks at QB for now, and Josh Allen and Winston are super tempting, especially in this format where reliability isn't necessary. I see there are some RBs I'll try to target in the future, so I'm going to take my favorite QB in the draft, in Josh Allen at a decent ADP (87).  By doing this, I crutch myself into taking an RB next round, but hopefully someone of value slips through then.
9.08 Jameis Winston – QB
Same debate as before, the best RB available is Devonta Freeman, which seems like a solid pick. However, my other decision at QB is still on the board and in a Best Ball draft where it's all about spikes and not necessarily consistency, I have to take maybe the biggest fantasy wildcard ever in Jameis Winston. I considered it last round, but this round he's still there and I am willing to take that pick and can feel good about my QB selections. Running backs remain the future focus, if Freeman still is there next pick I almost have to take him, otherwise I'm looking at handcuffs, and Mattison is my favorite of those.
10.05 Marquise Brown – WR
At this point there was a tough decision. I had to go RB or WR, however there were a lot of receivers that I couldn't pass on to take Freeman. One of those was Hollywood Brown. A second-year deep threat receiver in an awesome high-powered offense outweighs the age of Freeman who may be losing his job to a rookie. Hollywood is a great pick here.
11.08 John Brown – WR
Again, tons of WR value on the board right now. There's a debate here on whether to get yet another QB (and I think the value is there in Joe Burrow) or go for another awesome value at the WR position in Slayton and Fuller. My 3 RB targets (Freeman, Coleman, Mattison) all got picked in the break, so I am going to wait a touch longer on them for some pass catching backs. However, the best value is John Brown, who is 2 rounds past his ADP. Not who I expected to pick here, but the fact he is still here as a solid floor WR, it feels like a must pick. Fuller and Slayton have their booming weeks, but Brown is well past his ADP and can't pass up the value.
12.05 Joe Burrow – QB
If the value was there last time, the value exists this time. Why not take a shot on Burrow. He had a monster year last year in college and he's likely getting a starting job right away  assuming he ends up in Cincy. There are plenty of receiver talents there but it's the offensive line that's concerning. At QB where I feel safe, taking a shot here is fine to me!
13.08 Boston Scott – RB
At this stage of the draft, there is little to pick from at the Running Back position, and I've been delaying an RB pick. I don't love the options available, but Royce Freeman is well past his ADP, which is great value. However, Boston Scott sits there and his ability to score massive amounts of points like we saw last year is worth it to me. I'm taking him a touch earlier than expected but I need RBs and he is a Best Ball dream, especially in this RB crazy draft.
14.05 Henry Ruggs III – WR
Was leaning toward drafting a different position player, but I liked a value here in Henry Ruggs. He is a rookie and is likely to be a first-round pick, meaning any team taking him is likely going to focus on getting him targets. Taking a shot on him, especially since he is below his ADP, I'm happy making this pick here, even with some RBs still on the board (Chase Edmonds, AP), and a few starting TEs (Knox, Rudolph).
15.08 John Ross – WR
Why not? Looking at players available, I'm going to go for Chase Edmonds in the next round as he seemed too early to pick I'm giving John Ross a shot, after he exploded to start last year and fell off with injury and bad QBing. Maybe presumable #1 pick Burrow can change that, I'll gladly take a boom or bust WR in this round. I have to start thinking Defenses and Kickers soon so I'm not left in the dust, but don't need to panic there.
16.05 Chase Edmonds – RB
Needed Running Backs, and he was clearly the best available. Once the Cardinals moved away from DJ, he was the feature back until he got hurt. With the possibility that Kenyan Drake is no longer a Cardinal, he is a great pick here.
17.08 Pittsburgh – DEF
The wave of kickers and defenses are starting. I love the Steelers defense; I think they are one of the premier units in the league. I'm glad to get a jump on the defense wave as the league picks kickers.
18.05 Tee Higgins – WR
Tee Higgins is still here? Well, that's a value I can't pass up. Easy pick here, although I need to take kickers before they all go away, but there's a bunch available still, I just can't get left with none. Love the rookie class of WRs here.
19.08 Jason Sanders – PK
Pickings were getting slim, locked up a kicker I think will make it through the season. Was between a few, I like Sanders the most, hopefully the offense makes a few more this year.
20.05 Foster Moreau – TE
I need some tight end help, so I'm taking the backup to a tight end heavy passing team, if Waller goes down, the targets go to Moreau. I debated second kicker, but thought the value was here for a decent TE 3.
21.08 Daniel Carlson – PK
Well, the kickers went like crazy. Regretting not grabbing one sooner, so this is a reactionary must pick. Took the best available.
22.05 Green Bay – DEF
Took my second defense, I waited one too many rounds as about 10 went in a 12 pick range. The league is a bunch of followers and I needed to get a second, but I'm super happy with this one, they have great up and coming potential, and are a good team in a relatively weak division.
23.08 Tyrell Williams – WR
I really like Shenault and Reagor, but I wanted to grab someone with some NFL experience as well. Tyrell isn't a huge upside player but I'm rounding out my receiver corps, and I need someone who's going to catch passes.
24.05 Laviska Shenault – WR
Reagor is gone, so I'm going to go with the other WR that I like in Laviska Sheanault. I think he can contribute at an NFL level immediately, and I'm willing to take his chances over the other WRs available (Conley, Hamler). Looking at the rest of my picks I need a RB, a TE, a QB/TE and one more WR. I really like the rookies in Kmet and Okwuebugnam. Running backs have little value left, I'm glad I took mine early.
25.08 Kaden Smith – TE
Dang. Both Kmet and Okwuebugnam just went before my pick here. So I'm taking the Giants #2 guy, which pretty much guarantees tight end production from that team since I own Engram. The Giants were 7 in TE targets last year, so a similar offense will mean good things for me.
26.05 CJ Uzomah – TE
Finishing up my tight ends, I feel better about my QBs than I do my TEs, so this is why I took him. With Eifert's injury concerns, whether he stays or not, I'm fine with taking Uzomah. Hopefully he gets some production, but as my TE5 it feels like a safety pick.
27.08 KJ Hamler – WR
It is no secret his big play potential. I'm a Penn Stater and it is a must pick player for me. Could see him as a Tyreek Hill type or a kick returner, he's got that big play potential if I've ever seen. Set myself up for a RB pick to close it all out.
28.05 Malcolm Brown – RB
I needed to pick a running back, and I took what I thought was the best available. Brown is a TD stealer from Gurley at times and seems to be the #2 in LA as of now. Maybe he snags a few more TDs and then I have some running back production. Not my favorite pick but at round 28 I can't be that mad.
Pick by Pick Post-Draft and Free Agency Evaluation
The best tool I used in this evaluation is the Last 7 Days Best Ball ADP, looking to see how ADPs have changed in relation to my picks (as free agency has hit full stride), and how I feel about my picks with the hindsight knowing what the rest of the draft played out like. The best way to know how well I picked my team is to see the standings, but we are a long ways away from that.
1.08 Derrick Henry – RB
Titans gave him the franchise tag. That's great for me. The best thing that could've happened for Henry is to just stay put, and a Tannehill extension bodes well for him too. His ADP is 1.07, didn't miss on my first pick.
2.05 Leonard Fournette – RB
I'm so glad I took an RB here, I worried that passing on Kittle would be a mistake, but the RBs went like crazy, I'm glad I got another good one. Minshew has the job in Jacksonville, and that was great for Fournette. His ADP is 2.09 but I'm happy with it.
3.08 Kenny Golladay – WR
ADP right at 3.08. I'm not the biggest fan of it looking back, but I'm not upset with the pick, best WR available at the time.
4.05 Allen Robinson – WR
ADP of 4.08, so I took him a touch early, but I think it was a great pick. The Bears traded for Nick Foles, so I've got no reason to worry about his QB and targets. Should be a high floor player for me.
5.08 David Montgomery – RB
His ADP is 5.07, and none of the big-name RB Free Agents landed in Chicago. I love that I got a solid RB3 at his actual value. 
6.05 Evan Engram – TE
His ADP is 5.10. A few picks later than I should've gotten him, and I'm super happy. He's a great TE and in an up-and-coming offense. Hopefully his production steps up like the team is.
7.08 Dallas Goedert – TE
He has an ADP of 8.03. A touch early, but a Tight End who seems to get more and more targets in the most TE loving offense? That's a pick I'm super happy about it.
8.05 Josh Allen – QB
8.3 ADP, and a talent that I absolutely love. They added Diggs for him, and it seems as if Singletary is the future RB. The offense should really take another forward step. I'm stoked about having him, and right at value.
9.08 Jameis Winston – QB
Yikes. His ADP has fallen down to 12.03. I imagine it will rise once people know what team he is going to dress for, its unpredictable. I drafted him with the belief that Brady was staying in New England, and I thought Winston would get franchised. He still has the boom or bust ability, and he is simply too talented to go without a team this year. If I had to go in a different direction in hindsight, I would've taken Sony Michel or Alexander Mattison. Running Backs went like crazy.
10.05 Marquise Brown – WR
8.11 ADP now, so a steal. Looks like he's Baltimore's WR1 next year. I love this pick.
11.08 John Brown – WR
ADP 11.05. Not bad. Buffalo added Diggs, so he no longer is going to draw WR1 coverage. I think it could mean a great year for him. A high floor PPR WR, I'm happy.
12.05 Joe Burrow – QB
12.03 ADP. I like it. I would've gone with another QB instead of a TE know knowing the Winston scenario, but Allen and Burrow should hopefully keep me competitive and not lose me too many points.
13.08 Boston Scott – RB
His ADP is 13.11, and Jordan Howard is gone. He seems to become RB2 in Philly, and his "Save the Season" (as my Philly fan friends put it) campaign seems to solidify him as a part of the offense, even when Sanders was on the field. I originally worried I reached for him but it feels like a great pick now.
14.05 Henry Ruggs III – WR
His ADP is 12.05, and I drafted post Combine, but the media keeps convincing people on him. I feel good about it, he is one of many WRs in my arsenal, and I got him 24 picks after his value.
15.08 John Ross – WR
Ross has an ADP of 18.05. He went as high as 13.5 and as low as 22.8. I don't have a problem with this pick, but I think my WR core has enough talent where this value can be a miss. His value fell with the Bengals tagging AJ Green, but he should still get targets and he still has big play potential.
16.05 Chase Edmonds – RB
Yes! Nailed this. I thought it would be Kenyan Drake leaving, but it turns out David Johnson is gone. His ADP has jumped up to 13.09, and he becomes the RB2 in Arizona, maybe even competing for the job. I imagine the Cardinals take Offensive Line in the draft, and that will help him out as well. My favorite pick so far.
17.08 Pittsburgh – DEF
Average value at 16.03, and a round and a half late on my favorite defense for the year? Sign me up!
18.05 Tee Higgins – WR
Average value at 16.12. He goes as high as 9.08 and as low as 21.9. The ADP is likely skewed a bit with those early picks, so it seems like he is right at value. Another rookie WR to add to the team.
19.08 Jason Sanders – PK
His ADP is 22.3 and PK26. I wish I took kickers sooner but this is an okay pick. Kickers won't win me this league.
20.05 Foster Moreau – TE
His ADP tanked in the last week, the Raiders signed Jason Witten, so he may be a TE3 on his own team, which doesn't bode well for me hoping he would be the TE3 on my team. A 25.06 ADP and I took him 5 rounds early. Oh well, I should've taken a kicker here, because…
21.08 Daniel Carlson – PK
…all the kickers went in that last round. I ended up with Carlson and I don't like it. I worry my kicker production could get axed not too far into the season. Hopefully they do well enough to keep their jobs and get me some points.
22.05 Green Bay – DEF
Defense 19 and ADP of 21.11. I think this team is going to take a step forward defensively, and I love having them as my second defense, in a division with only Stafford, Trubisky, and Cousins. Compared to the league, that's a relatively weak QB division. Defenses are really hard to predict but let's not forget this team made the NFC Championship last year.
23.08 Tyrell Williams – WR
His ADP is now at 19.2, and the Raiders only added Nelson Agholor to their WR unit. He had decent production last year and I hope that offense takes a step forward in their production. I imagine he lines up at WR2 at the worst for them. In the 23rd round I like it.
24.05 Laviska Shenault – WR
A rookie WR, so his ADP is all over. He went as high as 8.07 and the lowest as 26.8. His ADP is 20.4, and I will gladly take that value, especially at the WR position. Great pick.
25.08 Kaden Smith – TE
Backup to Evan Engram. His ADP is right here at 25.11. Some insurance for me. Good value at a position I need.
26.05 CJ Uzomah – TE
26.02 ADP for Uzomah. At the time of writing there are Eifert to Jacksonville rumors, so he seems to be the next man up in Cincy. That would really boost his ADP I think. I will gladly take a starter at TE49 and round 26, especially in a Tight End premium league.
27.08 KJ Hamler – WR
I obviously love this pick as a Penn Stater. And I think he very well could be a sleeper hit in the league. Nicknamed the "Human Joystick" for a reason. Big play potential with him.
28.05 Malcolm Brown – RB
Could my 28th rounder really be my best pick of the draft? 18.03 ADP, and could be the Rams starter. Didn't expect that Gurley would be cut. I'm stoked about this pick now, especially 10 rounds past his value. Which is a crazy number.
Analysis of Position Units
Quarterbacks: Josh Allen, Jameis Winston, Joe Burrow
I am so glad I waited on QB. The later rounds for the skill positions really fell off, and I am glad I got QBs of my choice and didn't miss out on those skill players. Yes, I can nitpick now and wish I took someone instead of Winston, but he will likely get playing time somewhere. 
Running Backs: Derrick Henry, Leonard Fournette, David Montgomery, Boston Scott, Chase Edmonds, Malcolm Brown
I think this was the best part of my draft. In this league it seems RBs are the focus of everyone. I normally go RB in the early rounds of redraft leagues, but I am super glad I took them early here. The RBs went like wildfire which I wasn't expecting, so getting those guys at the start of the draft was super nice to have. I didn't end up reaching on RBs like I thought I would have to, their values fell into my lap, and have each jumped up in value in the recent days. 
Wide Receivers: Kenny Golladay, Allen Robinson, Marquise Brown, John Brown, Henry Ruggs III, John Ross, Tee Higgins, Tyrell Williams, Laviska Shenault, KJ Hamler
At the Wide Receiver position, I love my team. I knew I'd be taking them throughout the entire draft, and I don't feel like I lack floor or upside. Lots (4) of rookies, I imagine that one of them will boom into a quality player. Really happy with how they turned out, and I only drafted WRs when the value was there, making sure I wasn't reaching on any in relation to their 2-week ADP.
Tight Ends: Evan Engram, Dallas Goedert, Foster Moreau, Kaden Smith, CJ Uzomah
This is a Tight End Premium League, yet I didn't really notice tight ends being drafted differently at the top of the draft. As it went on, I noticed a lot of people were reaching on backup TEs looking for upside as opposed to Wide Receivers. I noticed that I had to get my TE picks in before they were all gone, and I had a good range that came from planning. In typical redraft leagues I tend to wait quite a while on tight ends, because I always value the receivers available as a lot higher, but here I had to get some early. I would never take Engram or Goedert in a redraft league in round 6 and 7, but here the lower tier Tight Ends all move way up the board.
Kickers: Jason Sanders, Daniel Carlson
Should've taken them sooner, I estimated the kicker range and my draft took a bunch of them quickly before I could get them. I would also never pick kickers this early, but I can't fall behind the rest of the league, so I had to jump in. 
Defenses: Pittsburgh, Green Bay
Love where I drafted defenses. I think they are undervalued in this league, but I think that comes from unpredictability. I grabbed two that I really like and didn't waste value in getting them.
Overall, I had a great time. I enjoy any fantasy draft and this being a learning experience provided an added challenge. We will see if my team turns out to be any good, but as I sit here in March, I think I'm set up for success. My biggest takeaways about the draft are that you need to get your core Running Backs early (roughly 2 in the first 3 rounds) if you want to have talent there. Also it seems like the players in these drafts like to wait for others to make the "first pick." It seemed as though people waited on the tier 2 QBs but once they started, everyone took one. Same thing happened in TEs, PKs, and Defenses. Don't get left too far in the dust. Finally, I think that there is value at WR the whole time. Don't get your heart set on taking the top talent. While they are the best for a reason, there is tons of production all over in that position. I felt as though I waited on WR and my team is absolutely loaded with upside.